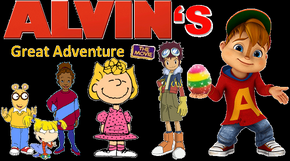 20th Universal Goodtimes Century Paramount's movies-spoof of "Barney's Great Adventure"
Cast and characters
Alvin Seville (Alvin & The Chipmunks) as Barney
Simon Seville as Himself
Theodore Seville as Himself
Brittany Miller as Herself
Jeanette Miller as Herself
Eleanor Miller as Herself
Angelica Pickles (Rugrats and All Grown Up) as Baby Bop
Arthur Read (Arthur) as BJ
Davis (Digimon) as Cody
Sally (Charlie Brown) as Abby
Keesha (Scholastic's The Magic School Bus) as Marcella
and lots more!
Gallery
Ad blocker interference detected!
Wikia is a free-to-use site that makes money from advertising. We have a modified experience for viewers using ad blockers

Wikia is not accessible if you've made further modifications. Remove the custom ad blocker rule(s) and the page will load as expected.