NatureRules1's TV spoof of Dinosaur King.
Human Cast
Edit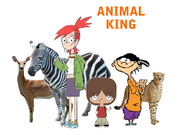 Max Taylor - Mac (from Foster's Home for Imaginary Friends)
Rex Owen - Double D (from Ed, Edd n Eddy)
Zoe Drake - Frankie Foster (from Foster's Home for Imaginary Friends)
Spike Taylor - Professor Utonium (from The Powerpuff Girls)
Reese Drake - Sara Bellum (from The Powerpuff Girls)
Dr. Z - Benedict Uno/Father (from Codename: Kids Next Door)
Ursula - Cree Lincoln (from Codename: Kids Next Door)
Zander - Chad Dickson (from Codename: Kids Next Door)
Ed - Nergal Jr. (from The Grim Adventures of Billy and Mandy)
Rod - Eddy (from Ed, Edd n Eddy)
Laura - Princess Morbucks (from The Powerpuff Girls)
Helga - Sedusa (from The Powerpuff Girls)
Seth - Kevin (from Ed, Edd n Eddy)
Spectre - General Skarr (from The Grim Adventures of Billy and Mandy)
Gavro - Mr. Boss (from Codename: Kids Next Door)
Foolscap - Manboy (from The Powerpuff Girls)
Sheer - Eris (from The Grim Adventures of Billy and Mandy)
Aki Taylor - Ms. Keane (from The Powerpuff Girls)
Dr. Owen - Monty Uno (from Codename: Kids Next Door)
Patrick - Harold (from The Grim Adventures of Billy and Mandy)
Jonathan - Woodsman (from Over the Garden Wall)
Mr. Drake - Grunkle Stan (from Gravity Falls)
Mrs. Drake - Madame Foster (from Foster's Home for Imaginary Friends)
Dr. Ancient - Greg Universe (from Steven Universe)
Dr. Cretacia - Sapna Nehru (from The Powerpuff Girls)
Tommy K - Mayor Bill Dewey (from Steven Universe)
Nathan Deckham - Johnny Bravo (from Johnny Bravo)
Amy - Buttercup (from The Powerpuff Girls)
Michelle - Eleanor Butterbean (from The Grim Adventures of Billy and Mandy)
Mary - Pearl (from Steven Universe)
Meena - Mandy (from The Grim Adventures of Billy and Mandy)
Sophia - Mabel Pines (from Gravity Falls)
Spartacus - Dipper Pines (from Gravity Falls)
Lucius Cornelius Sulla - Dick Hardly (from The Powerpuff Girls)
Jim - Wirt (from Over the Garden Wall)
Blackbeard - Captain Stickybeard (from Codename: Kids Next Door)
Copper - Boogeyman (from The Grim Adventures of Billy and Mandy)
Genzo Sansho Hoshi - Hoagie Gilligan (from Codename: Kids Next Door)
Ieyasu Tokugawa - Grim Gloom (from The 7D)
Zahrah - Star Butterfly (from Star vs. The Forces of Evil)
Zayid - Li'l Gideon (from Gravity Falls)
Rasheed - Mr. Fizz (from Codename: Kids Next Door)
Aladdin - Marco Diaz (from Star vs. The Forces of Evil)
Prince Louis XIII of France - Wallabee Beatles (from Codename: Kids Next Door)
Queen Marie de' Medici - Madam Margaret (from Codename: Kids Next Door)
Lady Constance - Kuki Sanban (from Codename: Kids Next Door)
d'Artagnan - Mike Believe (from The Powerpuff Girls)
Cardinal Richelieu - Robbie (from Gravity Falls)
Species Cast
Edit
Triceratops horridus - Grant's Zebra (Equus quagga boehmi)
Carnotaurus sastrei - Tanzanian Cheetah (Acinonyx jubatus raineyii)
Parasaurolophus walkeri - Springbok (Antidorcas marsupialis)
Tyrannosaurus rex - Masai Lion (Pantnera leo nubica)
Spinosaurus aegyptiacus - Polar Bear (Ursus maritimus maritimus)
Saichania chulsanensis - Indian Gaur (Bos gaurus gaurus)
Giganotosaurus carolinii - Siberian Tiger (Panthera tigris altaica)
Stegosaurus stenops - Pacific Walrus (Odobenus rosmarus divergens)
Brontosaurus excelsus -  Masai Giraffe (Giraffa tippelskirchi)
Pawpawsaurus campbelli - Topi (Damaliscus lunatus jimela)
Megaraptor namunhuaiquii - Southwestern Bobcat (Lynx rufus baileyi)
Allosaurus fragilis - European Brown Bear (Ursus arctos arctos)
Therizinosaurus cheloniformis - Southern Cassowary (Casuarius casuarius)
Pachycephalosaurus wyomingensis - Cape Buffalo (Syncerus caffer caffer)
Maiasaura peeblesorum - Western Lowland Gorilla (Gorilla gorilla gorilla)
Seismosaurus hallorum - Masai Giraffe (Giraffa tippelskirchi)
Supersaurus viviane - Indian Elephant (Elephas maximus indicus)
Saurophaganax maximus - Sumatran Tiger (Panthera tigris sumatrae)
Pteranodon longiceps - American Golden Eagle (Aquila chrysaetos canadensis)
Albertosaurus sarcophagus - Amur Leopard (Panthera pardus orientalis)
Carcharodontosaurus saharicus - African Leopard (Panthera pardus pardus)
Rajasaurus narmadensis - Mountain Lion (Puma concolor couguar)
Baryonyx walkeri - Indian Gharial (Gavialis gangeticus)
Shunosaurus lii - Tule Elk (Cervus canadensis nannodes)
Irritator challengeri - Brazilian Jaguar (Panthera onca onca)
Styracosaurus albertensis - Eastern Black Rhinoceros (Diceros bicornis michaeli)
Suchomimus tenerensis - Saltwater Crocodile (Crocodylus porosus)
Edmontosaurus regalis - Plains Bison (Bison bison bison)
Deinonychus antirrhopus - Northwestern Wolf (Canis lupus occidentalis)
Utahraptor ostrommaysorum - Southern Dhole (Cuon alpinus alpinus)
Futabasaurus suzukii - Killer Whale (Orcinus orca)
Ophthalmosaurus icenicus - Common Bottlenose Dolphin (Tursiops truncatus)
Amargasaurus cazaui - Eastern Giant Eland (Taurotragus derbianus gigas)
Iguanodon bernissartensis - Red Kangaroo (Macropus rufus)
Velociraptor mongoliensis - Spotted Hyena (Crocuta crocuta)
Troodon formosus - American Red Fox (Vulpes vulpes fulvus)
Dilophosaurus wetherilli - Cape Honey Badger (Mellivora capensis capensis)
Megalosaurus bucklandii - Eastern Black Bear (Ursus americanus americanus)
Cryolophosaurus ellioti - Leopard Seal (Hydrurga leptonyx)
Lambeosaurus lambei - Eastern Moose (Alces alces americana)
Alioramus remotus - Hamadryas Baboon (Papio hamadryas)
Ankylosaurus magniventris - Nile Hippopotamus (Hippopotamus amphibius amphibius)
Tarbosaurus bataar - Persian Leopard (Panthera pardus ciscaucasica)
Daspletosaurus torosus - Northern Lynx (Lynx lynx lynx)
Jobaria tiguidensis - Wild Bactrian Camel (Camelus ferus)
Saltasaurus loricatus - Nilgai (Boselaphus tragocamelus)
Edmontonia longiceps - Muskox (Ovibos moschatus)
Indosuchus raptorius - German Shepherd (Canis familiaris)
Eocarcharia dinops - Komodo Dragon (Varanus komodoensis)
Pachyrhinosaurus canadensis - East African Bush Elephant (Loxodonta africana knochenhaueri)
Corythosaurus casuarius - Arabian Oryx (Oryx leucoryx)
Ceratosaurus nasicornis - Nepalese Clouded Leopard (Neofelis nebulosa macrosceloides)
Acrocanthosaurus atokensis - Bengal Tiger (Panthera tigris tigris)
Altirhinus kurzanovi - Giant Panda (Ailuropoda melanoleuca melanoleuca)
Euoplocephalus tutus - Javan Banteng (Bos javanicus javanicus)
Anchiceratops ornatus - Mountain Goat (Oreamnos americanus)
Saurolophus osborni - Southern Ostrich (Struthio camelus australis)
Mapusaurus roseae - Grizzly Bear (Ursus arctos horribilis)
Pentaceratops sternbergii - Central African Warthog (Phacochoerus africanus massaicus)
Ampelosaurus atacis - Capybara (Hydrochoerus hydrochaeris)
Oviraptor philoceratops - Eastern Chimpanzee (Pan troglodytes schweinfurthii)
Majungasaurus crenatissimus - Common Caracal (Caracal caracal caracal)
Yangchuanosaurus shangyouensis - Snow Leopard (Panthera uncia uncioides)
Olorotitan arharensis - Giant Canada Goose (Branta canadensis maxima)
Piatnitzkysaurus floresi - Eurasian Wolf (Canis lupus lupus)
Tupuxuara longicristatus - Common Buzzard (Buteo buteo)
Achelousaurus horneri - Mustang (Equus caballus)
Diceratops hatcheri - Great Indian Rhinoceros (Rhinoceros unicornis)
Torosaurus latus - Desert Bighorn Sheep (Ovis canadensis nelsoni)
Deltadromeus agilis - Green Anaconda (Eunectes murinus gigas)
Torvosaurus tanneri - Wolverine (Gulo gulo luscus)
Lanzhousaurus magnidens - Scottish Red Deer (Cervus elaphus scoticus)
Leaellynasaura amicagraphica - Meerkat (Suricata suricatta siricata)
Isisaurus colberti - Malayan Tapir (Tapirus indicus)
Afrovenator abakensis - Indian Leopard (Panthera pardus fusca)
Anhanguera araripensis - European Eagle Owl (Bubo bubo bubo)
Lexovisaurus durobrivensis - Sichuan Takin (Budorcas taxicolor tibetana)
Kentrosaurus aethiopicus - Texas Longhorn (Bos taurus)
Archaeopteryx lithographica - Common Raven (Corvus corax principalis)
Gorgosaurus libratus - East African Wild Dog (Lycaon pictus lupinus)
Prosaurolophus maximus - Giant Anteater (Myrmecophaga tridactyla)
Tapejara wellnhoferi - Hyacinth Macaw (Anodorhynchus hyacinthinus)
Gigantspinosaurus sichuanensis - Lowland Bongo (Tragelaphus eurycerus eurycerus)
Sauropelta edwardsorum - Cape Porcupine (Hystrix africaeaustralis)
Minmi paravertebra - Canadian Beaver (Castor canadensis canadensis)
Stegoceras validum - Guanaco (Lama guanicoe)
Segnosaurus galbinensis - White-Headed Capuchin (Cebus capucinus)
Quetzalcoatlus northropi - Andean Condor (Vultur gryphus)
Udanoceratops tschizhovi - Black-Tailed Jackrabbit (Lepus californicus ememicus)
Muttaburrasaurus langdoni - Bornean Orangutan (Pongo pygmaeus pygmaeus)
Muraenosaurus leedsi - Humpback Whale (Megaptera novaeangliae)
Tsintaosaurus spinorhinus - King Penguin (Aptenodytes patagonicus patagonicus)
Dicraeosaurus hansemanni - Giant Otter (Pteronura brasiliensis brasiliensis)
Zuniceratops christopheri - Eastern Striped Skunk (Mephitis mephitis nigra)
Eoraptor lunensis - Eastern Raccoon (Procyon lotor lotor)
Allosaurus atrox - American Alligator (Alligator mississippiensis)
Gallimimus bullatus - Serengeti Thomson's Gazelle (Eudorcas thomsonii nasalis)
Anatotitan copei - Okapi (Okapia johnstoni)
Monoclonius crassus - Eastern White-Bearded Wildebeest (Connochaetes taurinus albojubatus)
Nemegtosaurus mongoliensis - Greater Kudu (Tragelaphus strepsiceros)
Neovenator salerii - Plains Coyote (Canis latrans latrans)
Siamotyrannus isanensis - Siamese Cat (Felis catus)
Tarchia gigantea - Grévy's Zebra (Equus grevyi)
Cetiosaurus medius - Kodiak Bear (Ursus arctos middendorffi)
Eucentrosaurus apertus - Common Impala (Aepyceros melampus melampus)
Nodosaurus textilis - Indefatigable Island Tortoise (Chelonoidis nigra porteri)
Albertaceratops nesmoi - Woodland Caribou (Rangifer tarandus caribou)
Centrosaurus apertus - Gemsbok (Oryx gazella)
Wuerhosaurus homheni - Lowland Nyala (Nyala angasii)
Monolophosaurus jiangi - Serval (Leptailurus serval hindeio)
Dromiceiomimus brevitertius - Ring-Tailed Lemur (Lemur catta)
Gastonia burgei - Ground Pangolin (Smutsia temminckii)
Shantungosaurus giganteus - Queensland Koala (Phascolarctos cinereus adustus)
Panoplosaurus mirus - Aardvark (Orycteropus afer)
Rugops primus - Dingo (Canis dingo)
Struthiomimus altus - Nine-Banded Armadillo (Dasypus novemcinctus)
Lambeosaurus magnicristatus - Alpine Ibex (Capra ibex)
Titanosaurus blanfordi - Wild Water Buffalo (Bubalus arnee arnee)
Polacanthus foxii - Mandrill (Mandrillus sphinx)
Talarurus plicatospineus - Southern Elephant Seal (Mirounga leonina)
Fukuiraptor kitadaniensis - Indian Peafowl (Pavo cristatus)
Ouranosaurus nigeriensis - Sri Lankan Sambar Deer (Rusa unicolor unicolor)
Metriacanthosaurus parkeri - Indian Jackal (Canis aureus indicus)
Tuojiangosaurus multispinus - Black Sable Antelope (Hippotragus niger niger)
Camptosaurus dispar - Addax (Addax nasomaculatus)
Liliensternus liliensterni - Common Sloth Bear (Melursus ursinus ursinus)
Abelisaurus comahuensis - Red Wolf (Canis rufus rufus)
Camarasaurus lentus - Wild Burro (Equus asinus)
Gondwanatitan faustoi - Ellipsen Waterbuck (Kobus ellipsiprymnus ellipsiprymnus)
Patagosaurus fariasi - Kéwel (Tragelaphus scriptus)
Brachyceratops montanensis - Blackbuck (Antilope cervicapra cervicapra)
Brachylophosaurus canadensis - Plains Pronghorn (Antilocapra americana americana)
Fukuisaurus tetoriensis - Southern Gerenuk (Litocranius walleri walleri)
Eustreptospondylus oxoniensis - Indian Wolf (Canis lupus pallipes)
Gojirasaurus quayi - Giant Pacific Octopus (Enteroctopus dofleini)
Sinraptor dongi - Fennec Fox (Vulpes zerda)
Einiosaurus procurvicornis - Eurasian Wild Boar (Sus scrofa scrofa)
Arrhinoceratops utahensis - Eastern Diamondback Rattlesnake (Crotalus adamanteus)
Szechuanosaurus campi - Grey Crowned Crane (Balearica regulorum gibbericeps)
Dacentrurus armatus - Bornean Elephant (Elephas maximus borneensis)
Charonosaurus jiayinensis - Virginia Opossum (Didelphis virginiana)
Agustinia ligabuei - Steller's Sea Lion (Eumetopias jubatus)
Opisthocoelicaudia skarzynskii - Przewalski's Horse (Equus ferus przewalskii)
Chasmosaurus belli - Wild Yak (Bos mutus)
Coelophysis bauri - White-Nosed Coati (Nasua narica molaris)
Dimorphodon macronyx - Indian Flying Fox (Pteropus giganteus)
Psittacosaurus mongoliensis - Ogilby's Duiker (Cephalophus ogilbyi)
Compsognathus longipes - Brown Rat (Rattus norvegicus)
Guanlong wucaii - Maned Wolf (Chrysocyon brachyurus)
Stygimoloch spinifer - Barbary Sheep (Ammotragus lervia)
Mosasaurus hoffmannii - Tiger Shark (Galeocerdo cuvier)
Koolasuchus cleelandi - Chinese Giant Salamander (Andrias davidianus)
Siats meekerorum - Florida Panther (Puma concolor coryi)
Sciurumimus albersdoerferi - Eastern Fox Squirrel (Sciurus niger vulpinus)
Deinocheirus mirificus - Brown-Throated Sloth (Bradypus variegatus)
Nasutoceratops titusi - Polish Wisent (Bison bonasus bonasus)
Gigantoraptor erlianensis - Indian Striped Hyena (Hyaena hyaena hyaena)
Incisivosaurus gauthieri - Arctic Fox (Vulpes lagopus foragorapusis)
Dryosaurus altus - Japanese Macaque (Macaca fuscata)
Pyroraptor olympius - Fossa (Cryptoprocta ferox)
Apatosaurus ajax - Red Hartebeest (Alcelaphus buselaphus caama)
Pelecanimimus polyodon - Keel-Billed Toucan (Ramphastos sulfuratus)
Hypsilophodon foxii - Black Spiny-Tailed Iguana (Ctenosaura similis)
Ornitholestes hermanni - Fishing Cat (Prionailurus viverrinus)
Scipionyx samniticus - Large Indian Civet (Viverra zibetha)
Parksosaurus warreni - Forest Sitatunga (Tragelaphus spekii gratus)
Segisaurus halli - Least Weasel (Mustela nivalis nivalis)
Ichthyovenator laosensis - Marabou Stork (Leptoptilos crumenifer)
Massospondylus carinatus - Lion-Tailed Macaque (Macaca silenus)
Citipati osmolskae - Australian Emu (Dromaius novaehollandiae novaehollandiae)
Caudipteryx zoui - Binturong (Arctictis binturong binturong)
Kosmoceratops richardsoni - North Sulawesi Babirusa (Babyrousa celebensis)
Erlikosaurus andrewsi - Black-Tailed Deer (Odocoileus hemionus columbianus)
Rhamphorhynchus muensteri - Greater Black-Backed Gull (Larus marinus)
Mononykus olecranus - Bat-Eared Fox (Otocyon megalotis megalotis)
Oryctodromeus cubicularis - Southern Hairy-Nosed Wombat (Lasiorhinus latifrons)
Heterodontosaurus tucki - Platypus (Ornithorhynchus anatinus)
Sinornithosaurus millenii - Tasmanian Devil (Sarcophilus harrisii)
Tenontosaurus tilletti - Persian Onager (Equus hemionus onager)
Tanycolagreus topwilsoni - American Badger (Taxidea taxus taxus)
Avimimus portentosus - Southern Ground Hornbill (Bucorvus leadbeateri)
Yutyrannus huali - Asiatic Lion (Panthera leo persica)
Juratyrant langhami - Broad-Snouted Caiman (Caiman latirostris)
Dracovenator regenti - Ethiopian Wolf (Canis simensis)
Rahonavis ostromi - Northern Bald Ibis (Geronticus eremita)
Zhenyuanlong suni - Kori Bustard (Ardeotis kori struthiunculus)
Rhabdodon priscus - Masai Klipspringer (Oreotragus oreotragus schillingsi)
Denversaurus schlessmani - Southern White Rhinoceros (Ceratotherium simum simum)
Bravoceratops polyphemus - Peary Caribou (Rangifer tarandus pearyi)
Hippodraco scutodens - Armenian Mouflon (Ovis orientalis gmelini)
Datousaurus bashanensis - Rothschild's Giraffe (Giraffa camelopardalis camelopardis)
Dromaeosaurus albertensis - Tibetan Wolf (Canis lupus chanco)
Bistahieversor sealeyi - Andean Spectacled Bear (Tremarctos ornatus)
Alectrosaurus olseni - Asiatic Cheetah (Acinonyx jubatus venaticus)
Beipiaosaurus inexpectus - Euro (Macropus robustus erubescens)
Anzu wyliei - North American Grey Fox (Urocyon cinereoargenteus scottii)
Thescelosaurus neglectus - Persian Fallow Deer (Dama dama mesopotamica)
Haplocheirus sollers - Bharal (Pseudois nayaur)
Anurognathus ammoni - European Bee-Eater (Merops apiaster)
Dracorex hogwartsia - West Caucasian Tur (Capra caucasica)
Mei long - Javan Leopard Cat (Prionailurus bengalensis javanensis)
Tropeognathus mesembrinus - King Vulture (Sarcoramphus papa)
Mercuriceratops gemini - Bohor Reedbuck (Redunca redunca)
Hatzegopteryx thambema - Great White Pelican (Pelecanus onocrotalus)
Thalattoarchon saurophagis - Sand Tiger Shark (Carcharias taurus)
Aquilops americanus- Royal Antelope (Neotragus pygmaeus)
Metoposaurus algarvensis - Spectacled Caiman (Caiman crocodilus)
Scelidosaurus harrisonii - Chinese Alligator (Alligator sinensis)
Alanqa saharica - Purple Heron (Ardea purpurea)
Aerotitan sudamerica - Brown Pelican (Pelecanus occidentalis)
Carnufex carolinensis - Turkey Vulture (Cathartes aura)
Ziapelta sanjuanensis - Mata-Mata (Chelus fimbratus)
Ichthyostega stensioei - Hellbender (Cryptobranchus alleganiensis)
Nundasuchus songeanensis - Bateleur (Terathopius ecaudatus)
Ocepechelon bouyai - Green Sea Turtle (Chelonia mydas)
Diplocaulus salamandroides - Whitespotted Conger (Conger myriaster)
Tambatitanis amicitiae - Swordfish (Xiphias gladius)
Dreadnoughtus schrani - Ocean Sunfish (Mola mola)
Titanoceratops ouranos - Yellow-Footed Rock Wallaby (Petrogale xanthopus)
Claosaurus agilis - Mhorr Gazelle (Nanger dama mhorr)
Hierosaurus sternbergi - Bushpig (Potamochoerus larvatus)
Saurornitholestes langstoni - Common Dwarf Mongoose (Helogale parvula)
Marshosaurus bicentesimus - Tibetan Blue Bear (Ursus arctos pruinosus)
Othnielosaurus consors - Saola (Pseudoryx nghetinhensis)
Harpactognathus gentryii - Lanner Falcon (Falco biarmicus)
Regnosaurus northamptoni - Sangai (Rucervus eldii eldii)
Variraptor mechinorum - Arabian Red Fox (Vulpes vulpes arabica)
Elasmosaurus platyurus - Sperm Whale (Physeter macrocephalus)
Mantellisaurus atherfieldensis - Darwin's Rhea (Rhea pennata)
Peteinosaurus zambellii - European Turtle Dove (Streptopelia turtur)
Mirischia asymmetrica - Marbled Polecat (Vormela peregusna)
Masiakasaurus knopfleri - Jaguarundi (Puma yagouaroundi)
Eonatator sternbergii - Cherry Anthias (Sacura margaritacea)
Diabloceratops eatonii - Longspine Snipefish (Macroramphosus scolopax)
Wendiceratops pinhornensis - Yellowfin Tuna (Thunnus albacores)
Ostafrikasaurus crassiserratus - North Chinese Leopard (Panthera pardus japonensis)
Hesperonychus elizabethae - New Guinea Singing Dog (Canis hallstromi)
Gargoyleosaurus parkpinorum - Forest Buffalo (Syncerus caffer nanus)
Coloborhynchus clavirostris - Eurasian Hoopoe (Upupa epops epops)
Ikrandraco avatar - White-Rumped Shama (Copsychus malabaricus)
Crichtonsaurus bohlini - Red-Tailed Catfish (Phractocephalus hemiliopterus)
Trachodon mirabilis - Brown-Headed Spider Monkey (Ateles fusciceps fusciceps)
Jaxartosaurus aralensis - Tibetan Antelope (Pantholops hodgsonii)
Dorygnathus banthensis - Red-Billed Tropicbird (Phaethon aethereus)
Guidraco venator - Laysan Albatross (Phoebastria immutabilis)
Nothronychus mckinleyi - Goodfellow's Tree Kangaroo (Dendrolagus goodfellowi)
Jeholopterus ningchengensis - Eastern Red-Tailed Hawk (Buteo jamaicensis borealis)
Nanuqsaurus hoglundi - Eastern Great Horned Owl (Bubo virginianus virginianus)
Spiclypeus shipporum - Eurasian Kestrel (Falco tinnunculus tinnunculus)
Machairoceratops cronusi - Eastern Buzzard (Buteo japonicus)
Dracoraptor hanigani - Malayan Sun Bear (Helarctos malayanus malayanus)
Dakotaraptor steini - Cape Jackal (Canis mesomelas mesomelas)
Crassigyrinus scoticus - Blacktip Reef Shark (Carcharhinus melanopterus)
Microposaurus averyi - Dwarf Crocodile (Osteolaemus tetraspis)
Mastodonsaurus torvus - Swainson's Hawk (Buteo swainsoni)
Limnoscelis dynatis - Harpy Eagle (Harpia harpja)
Dsungaripterus weii - White-Naped Crane (Grus vipio)
Pederpes finneyae - Red-Crowned Crane (Grus japonensis)
Metriorhynchus hastifer - Chain Catshark (Scyliorhinus retrifer)
Sarcosuchus imperator - Slender-Snouted Crocodile (Mecistops cataphractus)
Kaprosuchus saharicus - Northern Goshawk (Accipiter gentilis atricapillus)
Prestosuchus chiniquensis - Japanese Sparrowhawk (Accipiter gularis)
Qiupalong henanensis - Patagonian Mara (Dolichotis patagonum)
Acrotholus audeti - Dall's Sheep (Ovis dalli dalli)
Wiehenvenator albati - Leopard Shark (Triakis semifasciata)
Liubangosaurus hei - Greater Rhea (Rhea americana)
Miragaia longicollum - Red Lechwe (Kobus leche leche)
Protoceratops andrewsi - Visayan Warty Pig (Sus cebifrons)
Nyctosaurus gracilis - Northern Bald Eagle (Haliaeetus leucocephalus washingtoniensis)
Deinosuchus riograndensis - Eastern Nile Crocodile (Crocodylus niloticus africanus)
Prionosuchus plummeri - Amazonian giant centipede (Scolopendra gigantea)
Postosuchus alisonae - Venezuelan Red howler (Alouatta seniculus)
Titanoboa cerrejonensis - Reticulated Python (Python reticulatus)
Plesiosuchus manselii - Leopard moray (Enchelycore pardalis)
Torvoneustes coryphaeus - Snowflake moray (Echidna nebulosa)
Dakosaurus maximus - Giant moray (Gymnothorax javanicus)
Geosaurus giganteus - Ribbon eel (Rhinomuraena amboinensis)
Eotrachodon orientalis - Black howler monkey (Alouatta caraya)
Kritosaurus navajonicus - White-faced saki (Pithecia pithecia)
Gryposaurus notabilis - Red-backed bearded saki (Chiropotes chiropotes)
Saharastega moradiensis - European Peregrine falcon (Falco peregrinus peregrinus)
Carbonemys cofrinii - Malaysian giant turtle (Ortilia borneensis)
Alphadon marshi - Sugar glider (Petaurus breviceps)
Tetrapodophis amplectus - Chinese crocodile lizard (Shinisaurus crocodilurus)
Inostrancevia alexandri - Palawan binturong (Arctictis binturong whitei)
Gigantophis garstini - African rock python (Python sebae sebae)
Madtsoia bai - Common Boa Constrictor (Boa constrictor imperator)
Wonambi naracoortensis - Darwin's Carpet python (Morelia spilota variegata)
Yurlunggur camfieldensis - Green tree python (Morelia viridis)
Laophis crotaloides - Gabon viper (Bitis gabonica)
Repenomamus robustus - Golden-headed lion tamarin (Leontopithecus chrysomelas)
Fruitafossor windscheffeli - Southern tamandua (Tamadua tetradactyla)
Darwinopterus modularis - Northern cardinal (Cardinalis cardinalis)
Tongtianlong limosus - Bearded Emperor tamarin (Saguinus imperator subgrisescens)
Atopodentatus unicus - Giraffe stag beetle (Prosopocoilus giraffa)
Carcharodon megalodon - Great White Shark (Carcharodon carcharias)
Caiuajara dobruskii - Toco toucan (Ramphastos toco)
Stomatosuchus inermis - Blue whale (Balaenoptera musculus intermedia)
Euthecodon brumpti - Goliath tigerfish (Hydrocynus goliath)
Rimasuchus lloydi - African tigerfish (Hydrocynus vittatus)
Mourasuchus amazonensis - Cuvier's dwarf caiman (Paleosuchus palpebrosus)
Gryposuchus pachakaume - Orinoco crocodile (Crocodylus intermedius)
Apatoraptor pennatus - Shoebill (Balaeniceps rex)
Stratiotosuchus maxhechti - Coconut crab (Birgus latro)
Otodus obliquus - Porbeagle (Lamna nasus)
Ornithopsis hulkei - Pygmy marmoset (Cebuella pygmaea niveiventris)
Antarctic Titanosaur - Colossal squid (Mesonychoteuthis hamiltoni)
Pisanosaurus mertii - Diana monkey (Cercopithecus diana)
Ugrunaaluk kuukpikensis - Tufted puffin (Fratercula cirrhata)
Cathartesaura anaerobica - Siamang (Symphalangus syndactylus)
Agilisaurus louderbacki - Common squirrel monkey (Saimiri sciureus sciureus)
Aerosteon riocoloradense - Common marmoset (Callithrix jacchus)
Gualicho shinyae - Goeldi's marmoset (Callimico goeldii)
Murusraptor barrosaensis - Aye-aye (Daubentonia madagascarensis)
Diamantinasaurus matildae - Coquerel's sifaka (Propithecus coquereli)
Australovenator wintonensis - Brown goshawk (Accipiter fasciatus)
Panphagia protos - Crowned lemur (Eulemur coronatus)
Alvarezsaurus calvoi - Lac Alaotra bamboo lemur (Hapalemur alaotrensis)
Linhenykus monodactylus - Black and white ruffed lemur (Varecia variegata)
Sinosauropteryx prima - Gray mouse lemur (Microcebus murinus)
Brontomerus mcintoshi - White-fronted lemur (Eulemur albifrons)
Sauroposeidon proteles - Indri (Indri indri)
Europasaurus holgeri - Black crested mangabey (Lophocebus aterrimus)
Zhejiangopterus linhaiensis - Pied avocet (Recuvirostra avosetta)
Anchiornis huxleyi - Common Barn Owl (Tyto alba alba)
Sinornithoides youngi - Golden pheasant (Chrysolophus pictus)
Dimetrodon limbatus - Giant girdled lizard (Smaug giganteus)
Edaphosaurus pogonias - Plumed basilisk (Basiliscus plumifrons)
Ophiacodon mirus - Frilled lizard (Chlamydosaurus kingii)
Estemmenosuchus uralensis - Eastern Mantled guereza (Colobus guereza kikuyuensis)
Balaur bondoc - Bolivian gray titi (Callicebus donacophilus)
Quinkana fortirostrum - False gharial (Tomistoma schlegeli)
Baculites vertebralis - Chambered nautilus (Nautilus pompilius)
Yi qi - Blue jay (Cyanocitta cristata)
Sinocalliopteryx gigas - Kagu (Rhynochoetos jubatus)
Giant orthocone (Cameroceras trentonense) - Humboldt squid (Dosidicus gigas)
Aegirocassis benmoulae - Japanese spider crab (Macrocheira kaempferi)
Anomalocaris canadensis - Tasmanian giant crab (Pseudocarcinus gigas)
Jaekelopterus rhenaniae - American lobster (Homarus americanus)
Pterygotus anglicus - Red swamp crayfish (Procambarus clarkii)
Archelon ischyros - Leatherback sea turtle (Dermochelys coriacea)
Stupendemys souzai - Yellow-spotted Amazon river turtle (Podocnemis unifilis)
Schinderhannes bartelsi - Mbu pufferfish (Tetraodon mbu)
Mawsonia gigas - Piraíba (Brachyplatystoma filamentosum)
Leedsichthys problematicus - Whale Shark (Rhincodon typus)
Onchopristis numidus - Mekong giant catfish (Pangasianodon gigas)
Helicoprion bessonovi - Giant barb (Catlocarpio siamensis)
Chilesaurus diegosuarezi - Woodchuck (Marmota monax)
Tianyulong confuciusi - Lowland paca (Cuniculus paca)
Lesothosaurus diagnosticus - Red-rumped agouti (Dasyprocta leporina)
Rapetosaurus krausei - Long-tailed chinchilla (Chinchilla lanigera)
Nuthetes destructor - Pygmy slow loris (Nycticebus pygmaeus)
Kryptops palaios - Hercules beetle (Dynastes hercules)
Fukuivenator paradoxus - Great argus (Argusianus argus)
Chubutophis grandis - Malagasy giant hog nose snake (Leioheterodon madagascariensis)
Edestus giganteus - Beluga sturgeon (Huso huso)
Leptostyrax macrorhiza - Giant cichlid (Boulengerochromis microlepis)
Scapanorhynchus lewisii - Huchen (Hucho hucho)
Stethacanthus altonensis - Neon tetra (Paracheirodon innesi)
Dunkleosteus terrelli - Emperor tetra (Nematobrycon palmeri)
Cardabiodon ricki - Kissing prochilodus (Semaprochilodus insignis)
Giant thresher shark (Alopias grandis) - Atlantic blue marlin (Makaria nigricans)
Physogaleus contortus - Orbicular batfish (Platax orbicularis)
Aletopelta coombsi - Vancouver island marmot (Marmota vancouverensis)
Sordes pilosus - Pueo (Asio flammeus sandwichensis)
Changyuraptor yangi - Nene (Branta sandvicensis)
Abydosaurus mcintoshi - Silky sifaka (Propithecus candidus)
Austroraptor cabazai - Tufted capuchin (Sapajus apella fatuellus)
Agujaceratops mariscalensis - Senegal bushbaby (Galago senegalensis)
Paralititan stromeri - De Brazza's monkey (Cercopithecus neglectus)
Antarctopelta oliveroi - Antarctic fur seal (Arctocephalus gazella)
Abrosaurus dongpoi - Eastern quoll (Dasyurus viverrinus)
Aucasaurus garridoi - Black-breasted buzzard (Hamirostra melanosternon)
Achillobator giganticus - Mongolian ringneck (Phasianus colchicus mongolicus)
Argentinosaurus huinculensis - Short-beaked echidna (Tachyglossus aculeatus aculeatus)
Aardonyx celestae - Allen's swamp monkey (Allenopithecus nigroviridis)
Linheraptor exquisitus - Great curassow (Crax rubra)
Luanchuanraptor henanensis - Alagoas curassow (Mitu mitu)
Talenkauen santacrucensis - Crested black macaque (Macaca nigra)
Kol ghuva - Chukar (Alectoris chukar)
Tianyuraptor ostromi - Paradise tanager (Tangara chilensis)
Heyuannia huangi - Victoria crowned pigeon (Goura victoria)
Eunotosaurus africanus - Leopard tortoise (Stigmochelys pardalis babcocki)
Megawhaitsia patrichae - Styan's Red Panda (Ailurus fulgens styani)
Struthiosaurus austriacus - Malagasy giant rat (Hypogeomys antimena)
Erythrosuchus africanus - Perentie (Varanus giganteus)
Xianglong zhaoi - Northern Flying Squirrel (Glaucomys sabrinus)
Jonkeria truculenta - Malagasy leaf-nosed snake (Langaha madagascariensis)
Bonitasaura salgadoi - Parson's chameleon (Calumma parsonii)
Pterodaustro guinazui - Whooper swan (Cygnus cygnus)
Eosipterus yangi - Crested ibis (Nipponia nippon)
Cedarosaurus weiskopfae - African bullfrog (Pyxicephalus adspersus)
Morelladon beltrani - Southern screamer (Chauna torquata)
Notocolossus gonzalezparejasi - Gentoo penguin (Pygoscelis papua)
Sinoceratops zhuchengensis - Tawny frogmouth (Podargus strigoides)
Kulindadromeus zabaikalicus - European Roe Deer (Capreolus capreolus)
Bambiraptor feinbergi - King Cobra (Ophiophagus hannah)
Atlantochelys mortoni - Alligator Snapping Turtle (Macrochelys temminckii)
Mongolarachne jurassica - Mexican Redknee Tarantula (Brachypelma smithii)
Sea Scorpion (Megalograptus welchi) - Giant Isopod (Bathynomus doederleinii)
Castorocauda lutrasimilis - Rakali (Hydromys chrysogaster)
Volaticotherium antiquus - Japanese Dwarf Flying Squirrel (Pteromys mononga)
Erythrotherium parringtoni - Fanaloka (Fossa fossana)
Armadillosuchus arrudai - Southern Three-Banded Armadillo (Tolypeutes matacus)
Gerrothorax pulcherrimus - Yacare Caiman (Caiman yacare)
Adelobasileus cromptoni - Degu (Octodon degus)
Kannemeyeria simocephalus - Western Long-Beaked Echidna (Zaglossus bruijni)
Dinilysia patagonica - Milk Snake (Lampropeltis triangulum)
Lotosaurus adentus - Reeve's Muntjac (Muntiacus reevesi)
Lycaenops ornatus - Qinling Panda (Ailuropoda melanoleuca qinligensis)
Megazostrodon rudnerae - Long-Nosed Potoroo (Potorous tridactylus)
Morganucodon watsoni - Tayra (Eira barbara)
Effigia okeeffeae - Reichenow's Helmeted Guineafowl (Numida meleagris reichenowi)
Longisquama insignis - Budgerigar (Melopsittacus undulatus)
Tanystropheus conspicuus - North Island Brown Kiwi (Apteryx mantelli)
Laquintasaura venezuelae - Great Blue Turaco (Corythaeola cristata)
Tachiraptor admirabilis - Congo Serpent Eagle (Dryotriorchis spectabilis)
Tawa Hallae - Maleo (Macrocephalon maleo)
Pararhabdodon isonensis - Kirk's Dik-Dik (Madoqua kirkii)
Borealosaurus wimani - Mongolian Saiga (Saiga tatarica mongolica)
Turiasaurus riodevensis - Eastern Wild Turkey (Meleagris gallopavo silvestris)
Koreaceratops hwaseongensis - Mallard (Anas platyrhynchos)
Gasparinisaura cincosaltensis - Greater Sage Grouse (Centrocercus urophasianus)
Ruyangosaurus giganteus - Kinkajou (Potos flavus)
Acheroraptor temertyorum - San Joaquin Kit Fox (Vulpes macrotis mutica)
Bluff Downs Giant Python (Liasis dubudingula) - D'Albertis's Python (Leiopython albertisii)
Yandusaurus hongheensis - Satyr Tragopan (Tragopan satyra)
Velafrons coahuilensis - Numbat (Myrmecobius fasciatus)
Yinlong downsi - Rock Hyrax (Procavia capensis)
Helioceratops brachygnathus - Naked Mole Rat (Heterocephalus glaber)
Xenoceratops foremostensis - Blesbok (Damaliscus pygargus philippsi)
Animantarx ramaljonesi - Alaskan Husky (Canis familiaris)
Unaysaurus tolentinoi - Papillon (Canis familiaris)
Diplodocus carnegii - Vicuna (Vicugna vicugna)
Kaatedocus siberi - Magnificent Frigatebird (Fregata magnificens)
Kileskus aristotocus - Secretarybird (Sagittarius serpentarius)
Limaysaurus tessonei - Clown Anemonefish (Amphiprion ocellaris)
Aragosaurus ischiaticus - Florida Manatee (Trichechus manatus latirostris)
Alamosaurus sanjuanensis - Chinese Water Deer (Hydropotes inermis inermis)
Sinosaurus triassicus - Pallas's Cat (Otocolobus manul)
Wannanosaurus yansiensis - Collared Peccary (Pecari tajacu)
Vulcanodon caribaensis - Vietnamese Pot-Bellied Pig (Sus domesticus)
Venenosaurus dicrocei - Yokohama Chicken (Gallus domesticus)
Luoyanggia liudianensis - Imperial Amazon (Amazona imperialis)
Scutosaurus karpinskii - Golden Snub-Nosed Monkey (Rhinopithecus roxellana)
Dromaeosauroides bornholmensis - Bush Dog (Speothos 

venaticus 

venaticus)
Kelmayisaurus petrolicus - Augur Buzzard (Buteo augur)
Tochisaurus nemegtensis - Northern Flicker (Colaptes auratus)
Jinfengopteryx elegans - Superb Starling (Lamprotornis superbus)
Genusaurus sisteronis - Saddle-Billed Stork (Ephippiorhynchus senegalensis)
Tyrannotitan chubutensis - Saharan Sand Cat (Felis margarita margarita)
Shuvuuia deserti - California Quail (Callipepla californica)
Harpymimus okladnikovi - Northern Bobwhite (Colinus virginianus)
Elaphrosaurus bambergi - Black-Tailed Prairie Dog (Cynomys ludovicianus)
Qianzhousaurus sinensis - Red-eyed tree frog (Agalychnis callidryas)
Pycnonemosaurus nevesi - Japanese Raccoon Dog (Nyctereutes procyonoides viverrinus)
Veterupristisaurus milneri - Darwin's Fox (Lycalopex fulvipes)
Amurosaurus riabinini - Southern Pudu (Pudu puda)
Zhuchengtyrannus magnus - Ocelot (Leopardus pardalis aequatorialis)
Lufengosaurus huenei - Markhor (Capra falconeri)
Skorpiovenator bustingorryi - Pileated Woodpecker (Dryocopus pileatus)
Herrerasaurus ischigualastensis - Lowland Streaked Tenrec (Hemicentetes semispinosus)
Labocania anomala - Ringtail (Bassariscus astutus arizonensis)
Duriavenator hesperis - Asian Golden Cat (Catopuma temminckii)
Lythronax argestes - Southern Copperhead (Agkistrodon contortrix contortrix)
Ligabueino andesi - Nile Monitor (Varanus niloticus)
Sharovipteryx mirabilis - Eastern Bluebird (Sialia sialis)
Eudimorphodon ranzii - American Robin (Turdus migratorius)
Protohadros byrdi - Hirola (Beatragus hunteri)
Rukwatitan bisepultus - Green Iguana (Iguana iguana)
Tiktaalik roseae - Asian Arowana (Scleropages formosus)
Anabisetia saldiviai - Red-Bellied Piranha (Pygocentrus nattereri)
Saurosuchus galilei - Western Capercaillie (Tetrao urogallus)
Rutiodon carolinensis - Alligator Gar (Atractosteus spatula)
Plateosaurus engelhardti - Key Deer (Odocoileus virginianus clavium)
Kunbarrasaurus ieversi - California Sea Lion (Zalophus californianus)
Savannasaurus elliottorum - Nile Lechwe (Kobus megaceros)
Umoonasaurus demoscyllus - Beluga (Delphinapterus leucas)
Woolly Mammoth (Mammuthus primigenius) - Sri Lankan Elephant (Elephas maximus maximus)
Smilodon fatalis - Black-Footed Cat (Felis nigripes)
Andrewsarchus mongoliensis - Dalmatian (Canis familiaris)
Elasmotherium sibiricum - Pomeranian (Canis familiaris)
Entelodon magnus - Chihuahua (Canis familiaris)
Sarkastodon mongoliensis - Tabby (Felis catus)
Paraceratherium prohorovi - Sphinx (Felis catus)
Rahiolisaurus gujaratensis - Gelada (Theropithecus gelada)
Dodo (Raphus cucullatus) - Plain Chachalaca (Ortalis vetula)
Turanoceratops tardabilis - Giant Wood Rail (Aramides ypecaha)
Brochuchus pigotti - Southern Giant Petrel (Macronectes giganteus)
Yurgovuchia doellingi - Greater Roadrunner (Geococcyx californianus)
Chilantaisaurus tashuikouensis - Harris's Hawk (Parabuteo unicinctus)
Tendaguripterus recki - Hamerkop (Scopus umbretta)
Kryptodrakon progenitor - Gouldian finch (Erythrura gouldiae)
Sauroniops pachytholus - African Spoonbill (Platalea alba)
Pangupterus liui - Galapagos Hawk (Buteo galapagoensis)
Koshisaurus katsuyama - Greater Mouse-Deer (Tragulus napu)
Aegyptosaurus baharijensis - Wood Bison (Bison bison athabascae)
Allkaruen koi - Black-chested buzzard-eagle (Geranoaetus melanoleucus)
Phorusrhacos longissimus - Northern Crested Caracara (Caracara cheriway)
Atacamatitan chilensis - Queen Alexandra's birdwing (Ornithoptera alexandrae)
Aviatyrannis jurassica - African Giant Snail (Lissachatina fulica)
Yehuecauhceratops mudei - Dugong (Dugong dugon)
Mamenchisaurus sinocanadorum - Giant Manta Ray (Manta birostris)
Omeisaurus tianfuensis - Basking Shark (Cetorhinus maximus)
Proceratosaurus bradleyi - White-Necked Jacobin (Florisuga mellivora)
Aldabrachampsus dilophus - Pink Pigeon (Nesoenas mayeri)
Shuangmiaosaurus gilmorei - Arapaima (Arapaima ssp)
Laplatasaurus araukanicus - Tawny Owl (Strix aluco)
Ammosaurus major - Ural Owl (Strix uralensis)
Albertonykus borealis - Malleefowl (Leipoa ocellata)
Volkheimeria chubutensis - Gold Tegu (Tupinambis teguixin)
Andesaurus delgadoi - Mishmi Takin (Budorcas taxicolor taxicolor)
Angolatitan adamastor - Monito del monte (Dromiciops gliroides)
Alwalkeria maleriensis - Giant Leaf-Tailed Gecko (Uroplatus fimbratus)
Adasuarus mongoliensis - Brookesia micra
Alaskacephale gangloffi - Willow Ptarmigan (Lagopus lagopus)
Anserimimus planinychus - Red-Breasted Goose (Branta ruficollis)
Allosaurus europaeus - Common Vampire Bat (Desmodus rotundus)
Austroposeidon magnificus - Brown Thrasher (Toxostoma rufum)
Kerberosaurus manakini - Axolotl (Ambystoma mexicanum)
Chromogisaurus novasi - Bali Myna (Leucopsar rothschildi)
Thalassodromeus sethi - Spotted Eagle Owl (Bubo africanus)
Atlasaurus imelakei - Grey-winged trumpeter (Psophia crepitans)
Ajkaceratops kozmai - Sunbittern (Eurypyga helias)
Atsinganosaurus velauciensis - Black-necked spitting cobra (Naja nigricollis)
Medusaceratops lokii - Black Mamba (Dendroaspis polylepis)
Lapparentosaurus madagascariensis - Gila Monster (Heloderma suspectum)
Lourinhanosaurus antunesi - Green and Black Poison Dart Frog (Dendrobates auratus)
Gasosaurus constructus - Dyeing Dart Frog (Dendrobates tinctorius)
Khaan mckennai - Strawberry Poison Dart Frog (Oophaga pumilio)
Rubidgea atrox - Rinkhals (Hemachatus haemachatus)
Oudenodon bainii - Asiatic Black Bear (Ursus thibetanus)
Beelzebufo ampinga - Milky Eagle Owl (Bubo lacteus)
Arizonasaurus babittii - Cactus Wren (Campylorhynchus brunneicapillus)
Poposaurus gracilis - Bengal Florican (Houbaropsis bengalensis)
Paratypothorax andressi - Araripe Manakin (Antilophia bokermanni)
Shixinggia oblita - Pheasant Pigeon (Otidiphaps nobilis)
Appalachiosaurus montgomeriensis - Crocodile Monitor (Varanus salvadorii)
Bagaraatan ostromi - Central Bearded Dragon (Pogona vitticeps)
Eotyrannus lengi - Regal Horned Lizard (Phrynosoma solare)
Bagaceratops rozhdestvenskyi - Cuban Amazon (Amazona leucocephala)
Riojasaurus incertus - Spix's Macaw (Cyanopsitta spixii)
Leinkupal laticauda - Blue-throated macaw (Ara glaucogularis)
Europelta carbonensis - Bananaquit (Coereba flaveola)
Dilong paradoxus - Scarlet Macaw (Ara macao)
Bothriolepis canadensis - Barred Sorubim (Pseudoplatystoma fasciatum)
Isaberrysaura mollensis - Quokka (Setonix brachyurus)
Gigantopithecus blacki - Bonobo (Pan paniscus)
Varanus priscus - Knight Anole (Anolis equestris)
Megistotherium osteothlastes - Margay (Leopardus wiedii)
Thylacosmilus atrox - Hispaniolan Solenodon (Solenodon paradoxus)
Amphicyon galushai - Dachshund (Canis familiaris)
Gastornis gigantea - Silkie Chiken (Gallus domesticus)
Kelenken guillermoi - Lady Amherst's pheasant (Chrysolophus amherstiae)
Procoptodon goliah - Matschie's tree-kangaroo (Dendrolagus matschiei)
Hyaenodon gigas -St.Bernard (Canis familiaris)
Diprotodon opatum - Aardwolf (Proteles cristata)
Megaloceros giganteus - Pampas Deer (Ozotoceros bezoarticus)
Germanodactylus cristatus - Blue-footed booby (Sula nebouxii)
Platybelodon grangeri - Grey Heron (Ardea cinerea)
Coryphodon dabuensis - Jacob Sheep (Ovis aries)
Arsinoitherium giganteus - Sumatran Rhinoceros (Dicerorhinus sumatranus)
Brachychampsa montana - Boat-Billed Heron (Cochlearius cochlearius)
Borealosuchus sternbegii - Black-Crowned Night Heron (Nycticorax nycticorax)
Taohelong jinchengensis - Aplomado Falcon (Falco femoralis)
Tornieria africana - Scimitar-Horned Oryx (Oryx dammah)
Tangvayosaurus hoffeti - Northern White-Tailed Deer (Odocoileus virginianus borealis)
Ctenosaurus koeneni - Inca Tern (Larosterna inca)
Antetonitrus ingenipes - Indigo Bunting (Passerina cyanea)
Chuanjiesaurus anaensis - Chimango (Milvago chimango)
Buriolestes schultzi - Red Kite (Milvus milvus)
Cacops aspidephorus - Steenbok (Raphicerus campestris)
Huabeisaurus allocotus - Megamouth Shark (Megachasma pelagios)
Daxiatitan binglingi - Largetooth Sawfish (Pristis microdon)
Carcharocles auriculatus - Dusky shark (Carcharhinus obscurus)
Pliosaurus funkei - Greenland Shark (Somniosus microcephalus)
Liopleurodon ferox - Scalloped hammerhead (Sphyrna lewini)
Ilokelesia aguadagrandensis - Southern Muriqui (Brachyteles arachnoides)
Mauisaurus haasti - Southern Minke Whale (Balaenoptera bonaerensis)
Atrociraptor marshalli - Pygmy Killer Whale (Feresa attenuata)
Kronosaurus queenslandicus - Dall's Porpoise ( Truei Type) (Phocoenoides dalli)
Moanasaurus mangahouangae - Northern Minke Whale (Balaenoptera acutorostrata)
Dendrorhynchoides curvidentatus - Western Water Rail (Rallus aquaticus korejewi)
Purlovia maxima - Red-Legged Seriema (Chauna torquata)
Sillosuchus longicervix - European Roller (Coracias garrulus)
Zupaysaurus rougieri - South American Bushmaster (Lachesis muta)
Chenanisaurus barbaricus - Southern Rockhopper Penguin (Eudyptes chrysocome)
Qijianglong guokr - Ivory-Billed Woodpecker (Campephilus principalis)
Triopticus primus - Yangtze River Dolphin (Lipotes vexillifer)
Smok Wawelski - Lion's Mane Jellyfish (Cyanea capillata)
Ludodactylus sibbicki - Greater Flamingo (Phoenicopterus roseus)
Pannoniasaurus inexpectatus - Marine Iguana (Amblyrhynchus cristatus)
Thalassiodracon hawkinsi - Hawaiian Monk Seal (Neomonachus schauinslandi)
Jeholosaurus shangyuanensis - Atlas Moth (Attacus atlas)
Zanabazar junior - Macleay's Spectre (Extatostoma tiaratum)
Tsaagan mangas - Goliath Frog (Conraua goliath)
Concavenator corcovatus - Praying Mantis (Mantis religiosa)
Both Frankie and Bellum have (almost) the same hair color.
Giant Orthocone is a common name of Cameroceras.
Brontosaurus had been resurrected in 2015.
Sea Scorpion is a common name of Megalograptus
Diceratops had been now officially called Nedoceratops for a reason (Diceratops was already used by a bug) and Nedoceratops may still represents juvenile triceratops
Titanoboa and Carbonemys lives 50 million years after the dinosaur extinction.
Very few restorations for Hierosaurus.
The Ivory-Billed Woodpecker and the Yangtze River Dolphin are not yet functionally extinct so it played Qijianglong and Triopticus
Some animals including deinosuchus, mongolarachne and adelobasileus lives along with dinosaurs.
Ad blocker interference detected!
Wikia is a free-to-use site that makes money from advertising. We have a modified experience for viewers using ad blockers

Wikia is not accessible if you've made further modifications. Remove the custom ad blocker rule(s) and the page will load as expected.