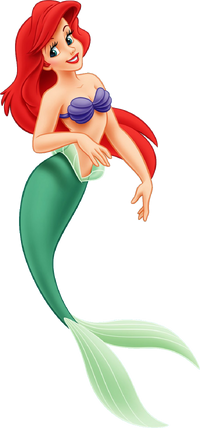 Princess
(later
Queen
)
Ariel
is a regally and unbearably beautiful, very attractive and insanely sexy mermaid from
The Little Mermaid
.
Voice Actors:
She is a red echidna
She is a blue hedgehog
She is Goldie's mom.
She is a daughter
She is a green fairy
She is the nursery rhymer.
She is a llama
Ariel played Padme in Star Wars (Produccion andlauz style)
Ariel played Jasmine In Ericladdin
She is an Arabian princess
She is Ryan's twin sister, an energetic and a proud student with a love of theatre
She is a mouse
She is a Foley mother
She is a frog
She is a waitress
She is Harold Sanders' girlfriend
She is a girl
She is a ???
Ariel played Tinker Bell in Anario Pan
She is a golden fairy
Ariel played Maid Marian in Eric Hood
She is a vixen
Ariel played Elephant Prissy in Roo
She is an elephant
She is Ash Ketchum's traveling partner
She is a pig
She is a swan
Ariel played Raye/Sailor Mars in Sailor Kim
She is a Sailor Scout
She is a boy
She is a princess 
She is a lioness
She is a girl
She is a girl
She appears in her mermaid form when she plays the Beast, but she appears in her human form when she plays Prince Adam.
Ariel played Jenna in Ericto
She is a Red Huskey
She is a mother
She is a girl from Alaska
She is from the Southern Water Tribe
She is a green emotion
Ariel Played Jeniffer Paige "the Waitress" In The Country Critters
She is a Waitress
She is a Lioness
She is a Lioness
She is a lion
We Ariel Plays Dad O'girl
She is a Gem Boy
Ariel Played Nakoma in Alicehontas
She is a Indian
Ariel Played Princess Fiona (Human) In Danny (Shrek)
She is a Baby Girl
She is a Tank Engine
She is the Goose Mother
She is the Little Kitten
She is a Monster
Shes is a master builder
Shes a Leader Penguin
Shes a bunny
Shes a blob
She is a red haired girl
She is a cowgirl
Ariel Played Bo Peep in Toon Story (TrueDisneyKing Style)
She is a shepherdess
Ariel Played along with her Sisters Catfishes in Davey's Bad Hair Day
She is a dwarf
Ariel Played Joy on the lost term memory scene in Seaside Out
She is a emotion on the long term memory scene
Ariel Played Widow Tweed in The ??? and the ???
Ariel Played SkyTrain Mark I #122
She is a playable with Nicole Desaulniers
Ariel Played SkyTrain Mark I #155
She is a playable with Victoria Prouten
She is a Pegasus pony
Ariel played Serena/Sailor Moon in Sailor Ariel
She is a sailor scout
Portrayals
In The Little Mer-Husky Ariel is played by Jenna
In The Little Mer-Hero Girl (CyberChaseZoneFilms2010 Style), The Little Mer-Hero Girl 2: Return to the Sea, The Little Mer-Hero Girl 3: Gogo's Beginning, The Little Hero Girl, The Little Hero Girl 2: Return to the Sea and The Little Hero Girl 3: Gogo's Beginning Ariel is Played by GoGo Tomago
In The Little Honey Lemon Ariel is playesd by Honey Lemon
In The Little Mer-Einstein Ariel is played by June
In The Little Merflower Ariel is played by Kiazuki
In The Little Mer-Enchancia Ariel is played by Princess Sofia
In The Little Mer-Princess Ariel is played by Goldie Locks
In The Little Mer-Riding Hood Ariel is played by Little Red Riding Hood
In The Little Pig Ariel is played by Twigs
In The Little Mer-Macaw Ariel is played by Jewel
In The Little Mer-Rabbit Ariel is played by Judy Hopps
In The Little Princess Beauty Ariel is played by Princess Beauty
In The Little Mer-Lioness Ariel is played by Nala
In The Little Mer-Dog Ariel is played by Lady
In The Little Mer-Cat Ariel is played by Sawyer
In The Little Snow Princess Ariel is played by Anna
In The Little French Girl Ariel is Played by Belle
In The Little Mer-Ice Queen Ariel is played by Elsa
In The Little Ragdoll Ariel is played by Sally
In The Little Mer-Vikingness Ariel is played by Astrid Hofferson
In The Little Mer-Vortex Ariel Played by Cindy Vortex
In The Little Nekojin Ariel is played by Mariah Wong
In The Little Mermammal Ariel is played by Snow White
In The Little Tank Engine Ariel is played by Thomas the Tank Engine
In The Little Mer-Ash, The Little Mer-Ash 2: Return to the Sea and The Little Mer-Ash 3: Ash's Beginning Ariel is played by Ash Ketchum
In The Little Sailor Scout, Ariel is played by Serena/Sailor Moon
In The Little Squirrel, Ariel is played by Sandy Cheeks
In The Little Mer-Jupiter, Ariel is played by Lita/Sailor Jupiter
In The Little Maid Ariel Played by Cinderella
In The Little Mer-Possible Ariel is played by Kim Possible
In The Little Goth Girl Ariel played by Gwen
In The Little Mer-Pureheart Ariel Played by Pearl Pureheart
In The Little Arabian Princess Ariel Played by Princess Jasmine
In The Little Hedgehog, Ariel is played by Sonic the Hedgehog
In The Little Seinfeld Ariel Played by Elaine Benes
In The Little Mer-Cowgirl Ariel is played by Jessie
In The Little Mer-Purple Emotion, Ariel is played by Fear
In The Little Mer-Princess Ariel is played by Rapunzel
In The Little Briar Rose, Ariel is played by Princess Aurora
In The Little Elizabeth Brisby Ariel is played by Mrs. Brisby
In The Little Mer-Lioness Ariel is played by Nala
In The Little Lady Ariel is played by Princess Eilonwy
In The Little Mer-Katie Ariel is played by Katie
In The Little Rapier Boy Ariel is played by Little CJ
In The Little Mer-Actress Ariel is played by Selena Gomez
In The Little Perfecto Girl Ariel is played by Shannon
In The Little Mer-Oriana Ariel is played by Princess Oriana
In The Little Mer-Rodent Ariel Is Played By Rita Malone
In The Little Mer-Mouse (TheLastDisneyToon Style) Ariel Is Played By Minnie Mouse
In The Little Whale Shark Ariel Is Played By Destiny
In The Little Aardvark Ariel is played by D.W. Read
In The Little Florist Ariel is played by Vanessa Bloome
In The Little Teenager Ariel is played by Candace Flynn
In The Little Mother Ariel is played by Linda Flynn
In The Little Frog Ariel is played by Lily
In The Little Garfield, The Little Garfield II: Return to the Sea, & The Little Garfield III: Garfield's Beginning Ariel is played by Garfield
Gallery: