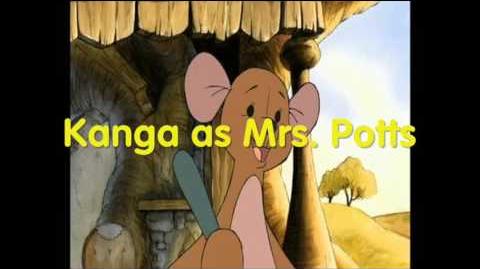 Cast:
Belle-Princess Eilonwy (The Black Cauldron)
Beast-Adult Kuvo (The Lion King 2: Simba's Pride)
Prince Adam-Taran (The Black Cauldron)
Lumiere-Yogi Bear
Lumiere (Human)-Flynn Rider (Tangled)
Cogsworth-Quick Draw McGraw
Cogsworth (Human)-Quasimodo (The Hunchback of Notre Dame)
Mrs. Potts-Kanga (Winnie the Pooh)
Mrs. Potts (Human)-Widow Tweed (The Fox and the Hound)
Chip-Roo (Winnie the Pooh)
Chip (Human)-Pinocchio (Pinocchio)
Feather Duster-Cindy Bear
Sultan-Itchy (All Dogs Go to Heaven)
Angelique-Rebecca Cunningham (TaleSpin)
Angelique (Human)-Pocahontas (Pocahontas)
Forte-Red (All Dogs Go to Heaven 2)
Forte (Human)-Rasputin (Anastasia)
Fife-Bartok (Anastasia)
Fife (Human)-Mr. Snoops (The Rescuers)
Axe-Wally Gator
Peddler Woman/Enchantress-Nana (Madagascar)/Fairy Godmother (Cinderella)
Phillippe-Cyril Proudbottom (The Adventures of Ichabod and Mr. Toad)
Ad blocker interference detected!
Wikia is a free-to-use site that makes money from advertising. We have a modified experience for viewers using ad blockers

Wikia is not accessible if you've made further modifications. Remove the custom ad blocker rule(s) and the page will load as expected.