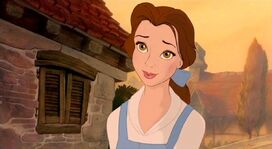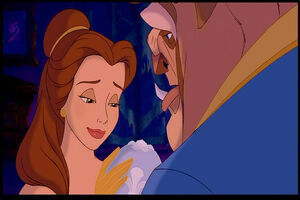 Belle is the female protagonist in Beauty and the Beast.
Voice Actors
Relationships
Friends:
Beast
King Maurice
Clocksworth
Lumiére
Mrs. Potts and Chip
Fifi
Wardrobe
Enemies:
Gaston
Le Fou
Monsieur D'arque
She is the Good Witch of the North
She is Roger's wife
She is a blue emotion
She is a dust keeper fairy
She is Anakin's mother
She is Shanti's mother
She is David's mother
She is a lioness and Zuba's wife
Belle played Edmond's Mother in Rock-a-Orinoco
She is Edmond's mother
She is a field mouse
She is Dorothy Gale's aunt
She is Homer Zuckerman's wife
Belle played Mrs. Toad in Auroralina
Belle played Giddy in Roo
She is an elephant
She is a princess
She is a tomboyish pretty dog, who sings country
Belle played Sophie in Pocastasia
Portrayals
Family
Kronk (husband)
Prince Adam /Beast (2nd husband)
Taya Calder (daughter)
Gallery:
Ad blocker interference detected!
Wikia is a free-to-use site that makes money from advertising. We have a modified experience for viewers using ad blockers

Wikia is not accessible if you've made further modifications. Remove the custom ad blocker rule(s) and the page will load as expected.