MICHAELOVER's movies-spoof and this is a parody of Disney 1997 film "Hercules"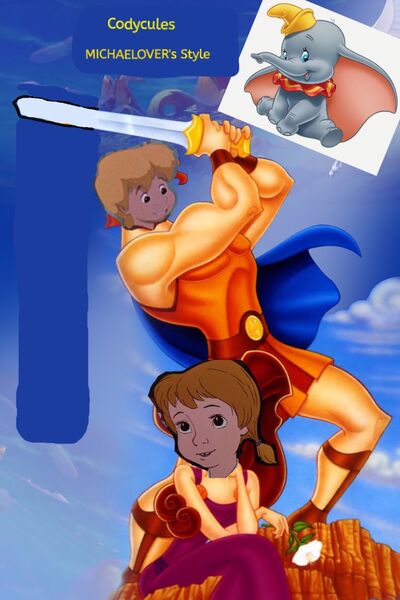 Cast
Hercules - Cody (The Rescuers Down Under)
Megara - Penny (The Rescures)
Philoctetes - Mushu (Mulan)
Pegasus - Dumbo
Hades - Percival C. McLeach (The Rescuers Down Under)
Pain and Panic - Jasper and Horace (101 Darmatians (Animated))
Zeus - Captain Phoebus (The Hunchback of Notre Dame)
Hera - Esmeralda (The Hunchback of Notre Dame)
Hermes - Roger Rabbit (Who Framed Roger Rabbit)
The Muses - Rita (Oliver & Company), Master Tigress (Kung Fu Panda), Sawyer (Cats Don't Dance) Georgette (Oliver & Company) and Lola Bunny (Looney Tunes)
Demetrius The Pot Maker - Pumbaa (The Lion King)
The 3 Headed Dog - Aliens Invaders (Scooby Doo and The Alien Invaders)
The Painter - Gill (Finding Nemo)
The Nessus - Sykes (Oliver & Company)
The Hydra - Dragon Maleficent (Sleeping Beauty)
Hercules's Parents - Edward and Giselle (Enchanted)
The Townsflox - Amber (Scooby Doo) Dodger (Oliver & Company) Koda (Brother Bear) Young Kiara (The Lion King 2) And Shaun the Ship (A Close Shave)
The Titans - Snake Jafar (Aladdin), Sabor (Tarzan), The Great Animal (The Swan Princess), and Lucifer (Cinderella)
Pain and Panic as a Boys - John Darling and Micheal Darling (Peter Pan)
The Cyclops - Red (All Dogs Go to Heaven 2)
The Boys With Frisbee - Shaggy and Scooby Doo (Scooby Doo)
The Fates - Witch Hazel (Looney Tunes), Ursula (The Little Mermaid), and Sour Kangaroo (Horton Hears a Who)
Gallery
Ad blocker interference detected!
Wikia is a free-to-use site that makes money from advertising. We have a modified experience for viewers using ad blockers

Wikia is not accessible if you've made further modifications. Remove the custom ad blocker rule(s) and the page will load as expected.