movie-spoof and parody of Disney's "Lady and the Tramp". It will appear on Vimeo in the near future.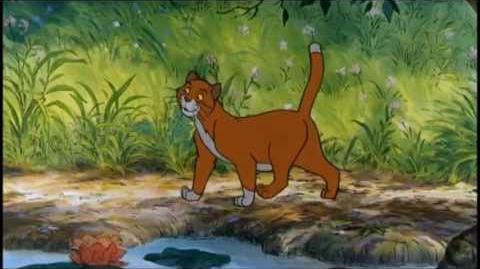 Cast
Puppy Lady - Marie (The Aristocats)
 Adult Lady - Duchess (The Aristocats)
The Tramp - Thomas O'Malley (The Aristocats)
Jock - Dodger (Oliver & Company)
Trusty - Einstein (Oliver & Company)
Jim Dear - Roger Radcliffe (101 Dalmatians (Animated)
Darling - Anita Radcliffe (101 Dalmatians (Animated)
Tony - Eli "Big Daddy" LaBouff (The Princess and the Frog)
Joe - Chef Louis (The Little Mermaid)
Aunt Sarah - The Queen of Hearts (Alice in Wonderland (1951)
Si and Am - Felicia (The Great Mouse Detective) and Pom-Pom (Cinderella 2: Dreams Come True)
Toughy - Yogi Bear
English Bulldog - Dumbo
Boris - Meeko (Pocahontas)
Pedro - Pluto (Disney cartoons)
Peggy - Kanga (Winnie the Pooh)
Mr. Busy the Beaver - Gopher (Winnie the Pooh)
The Rat - Rats (The Great Cat Family (1956)
Ad blocker interference detected!
Wikia is a free-to-use site that makes money from advertising. We have a modified experience for viewers using ad blockers

Wikia is not accessible if you've made further modifications. Remove the custom ad blocker rule(s) and the page will load as expected.