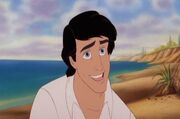 Prince Eric is Ariel's husband in The Little Mermaid.
He is a singer
He is an Earthbender
He is a Pink Hedgehog
Eric played Aladdin in Ericladdin
He is a Street Rat
He is a Foley father
He is a Lioness
He is a Thief King
Eric played Balto in Ericto
He is a husky/wolf mix
He is an Prince
He is a chief of the southern water tribe.
Eric Played Kenai [Human] in Brother Lion
He is an Hunter 
He is a Jedi
He is a vulture
He is a meerkat
He is a dwarf
He is a tank engine
He is a Monster
Gallery:
Ad blocker interference detected!
Wikia is a free-to-use site that makes money from advertising. We have a modified experience for viewers using ad blockers

Wikia is not accessible if you've made further modifications. Remove the custom ad blocker rule(s) and the page will load as expected.