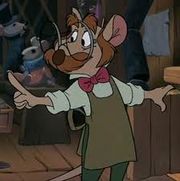 Hiram Flaversham is a Olivia's Father from "The Great Mouse Detective."
Voice Actors:
Alan Young - English
Ichiro Murakoshi - Japanese
He is Prince John.s Big Brother and the King of Engiland
Hiram Played Chief Powhatan in Oliviahontas
He is a Chief
He is Derek's Most Trusted Person
He is a Long-lost Father
He is a Sea King
He is a King
He is Spirit
He is the leader of the Cola Cult
He is Raye's Shrine
He is a
Portrayals:
Gallery:
Ad blocker interference detected!
Wikia is a free-to-use site that makes money from advertising. We have a modified experience for viewers using ad blockers

Wikia is not accessible if you've made further modifications. Remove the custom ad blocker rule(s) and the page will load as expected.