He is the main antagonist character from "Darkwing Duck".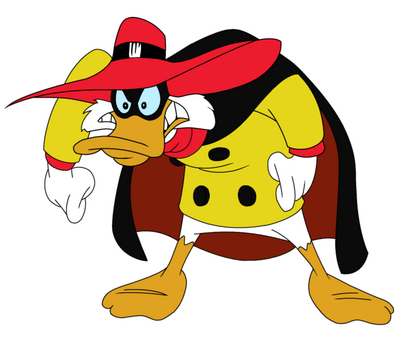 He is a hyena
He is a Sorcerer
He is a Lion
Negaduck played Hades in Daffycules
He is a Devil and the ruler of the Underworld
He is a Dictator
He is a Dog
He is a Corpse
He is a Judge
He is a Captain
Negaduck played Ronno in Gumbambi
He is a Deer
He is a Grumpy Flyer
He is a Green Man
He is a Lizard
Negaduck played The Grand Duke of Owls in Rabbit-a-Doodle
He is an Evil Owl who hates the light and plans the rooster for never letting the sun shine
He is an Evil Penguin who plans to steal the Hero's girlfriend
He is a Bird
Negaduck played Uka Uka in Fievel Mousekewitz (Crash Bandicoot)
He is an Evil Mask
Negaduck played Old Jafar in Kovuladdin
He is a Old Man
He is a Muscular Sailor
Negaduck played Iago in Larsladdin
He is a Parrot
Negaduck played Falcon in Rosielan
He is a Falcon
He is a Sorcerer
Gallery:
Ad blocker interference detected!
Wikia is a free-to-use site that makes money from advertising. We have a modified experience for viewers using ad blockers

Wikia is not accessible if you've made further modifications. Remove the custom ad blocker rule(s) and the page will load as expected.