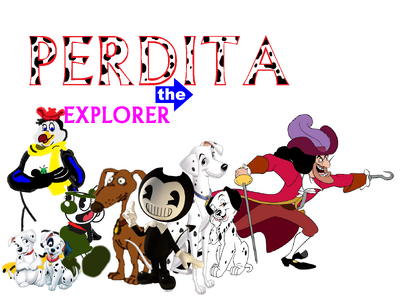 Disneystyle8's Spoof of "Dora The Explorer"
Cast
and lots more!
Perdita's Top 10 Best Friends List
Jungle Jangs
Hubie
Rolly and Patch
Captain Hook (The Enemie Of Perdita)
Two-Tone
Spike (Rugrats)
Theodore Tugboat
Chanticleer
Rajah
Gallery
Scenes
List of Perdita The Explorer episodes
Season 1
The Legend of the Giant Tugboat
Lost and Found
Hic, Boom, Ohhh
Beaches
We All Scream for Ice Cream
Choo-Choo!
Treasure Island
Three Little Bears
Big River
Berry Hunt
Timon Wishes
Grandma's House
Surprise!
Sticky Tape
Bouncing Ball
Two-Tone
Patches Out of Doghouse
Bugga Bugga
Maggie Simpson
Perdita Save the Prince
El Coqui
The Chocolate Great Dane
Te Amo
Ord's Flute
Call Me, Mr. Riddles
To the Treehouse
Season 2
The Big Storm
The Magic Stick!
The Missing Piece
Putt-Putt the Purple Car
Lost Squeaky
Doctor Perdita
The Golden Explorers
El Dia De Las Madres
Lost Geo
Nemo, the Killer Whale Express
The Big Pinata
The Happy Old Bob the Tomato
Super Spike!
Click!
A Present for Colonel Hathi
Rapido Rolly and Patch!
A Letter for Captain Hook
Daisy the Cow, La Musica
Egg Hunt
Super Spies
To the Monkey Bars
Hide and Go Seek
School Pet
Quack! Quack!
Whose Birthday is It?
Pepe Le Pew, the Circus Skunk
Season 3
The Lost City
Perdita Had a Little Dalmatian Puppy
Meet Pongo
Stuck Truck
Bob the Builder
The Big Potato
Rescue, Rescue, Rescue
Save the Characters
Por Favor!
What Happens Next?
The Fix-It Machine
Sebastian the Snake
Baseball Bendy
Bendy's Special Day
To the South Pole
Journey to the Purple Planet
Boo!
Perdita Save the Game
Perdita's Pirate Adventure
The Super Silly Fiesta!
Bendy's Cuddly Dinosaur
Job Day
Louder!
ABC Animals
Best Friends
Season 4
Perdita's Fairytale Adventure
Penny, La Quinceanera
Wild Animal Catchers
Daisy the Cow, La Musica
The Shy Rainbow
Captain Hook the Explorer
Sweet Treats Mountain
Super Mammals!
Catch the Mammals!
Perdita Got a Puppy
We're a Team
Super Spies 2: The Swiping Machine
Perdita and Pongo to the Rescue
A Crown for Larry the Cucumber
The Mixed-Up Seasons
Perdita's Dance to the Rescue
Save Pongo
Perdita's First Trip
Rajah's Roar
Bendy to the Rescue
Pumbaa Jr.
Season 5
First Day Of School
The Two-Tone Parade
Hubie's Big Race
Jungle Jangs' Dalmatian Flowers
Perdita's Jack-in-the-Box
The Mayan Adventure
Theodore Tugboat's Magic Show
Hubie's Treasure
Perdita Save Three Kings Day
Perdita Save the Three Little Bears
Hoo, Haa to Play Park
Perdita Save the Crystal Kingdom
The Super Mammal's Dream Adventure
Perdita's Christmas Carol Adventure
Perdita Help the Birthday Timon
Pirate Treasure Hunt
Perdita's Big Birthday Adventure
Season 6
Perdita's Pegaso Adventure
Happy Birthday, Super Mammals!
Perdita's Hair-Raising Adventure
Flicker Comes Home
Bob the Tomato Gets Married
Perdita's Ballet Adventure
Bendy's First Flying Spoon
Vacaciones!
Perdita in Vegetable Land
Dodger's School Day Adventure
The Tale of the Cucumber King
Halloween Parade
The Secret of Atlantis
Perdita Save Future Forest
Theodore Tugboat's Magic Wand
Captain Hook's Favorite Things
Perdita's Knighthood Adventure
A Ribbon for Nemo
Season 7
Perdita's Easter Adventure
Feliz Dia De Los Padres
Perdita's Rescue in Mermaid Kingdom
Perdita's Fantastic Gymnastics Adventure
School Science Fair
Perdita's Moonlight Adventure
Domino's Big Surprise!
Perdita & Pongo's Amazing Animal Circus Adventure
Hubie the Castaway
Piglet's Big Music Show
Perdita's Royal Rescue
Vamos a Pintar!
Check Up Day!
Little Spike
Perdita's Thanksgiving Day Parade
Book Explorers
Perdita Rocks
The Cat Ball
Season 8 (Last Season)
Perdita & Domino to the Rescue
Dalmatian Puppies Galore
Catch That Shape Train
Pigs in Mittens
Perdita's Great Roller Skate Adventure
Mater's Birthday Party
Perdita & Dipstick's Riding Adventure
Perdita's Rainforest Talent Show
Perdita & Pongo in the Time of Dinosaurs
Perdita's Ice Skating Spectacular
Riding the Roller Coaster Rocks
Perdita in Wonderland
Perdita's Museum Sleepover Adventure
Perdita's Super Soccer Showdown (LAST EPISODE OF PERDITA THE EXPLORER)
History Title Cards
Videography
Home Videos