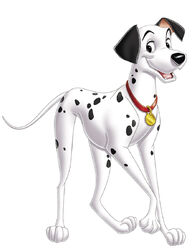 Pongo is a dalmatian from 101 Dalmatians.
Pongo played Wedge Antillies in Animation Star Wars
He is a rebel pilot
Pongo played Bob in Crocodile Barkin II
He is a photographer
He is Paul Conway's best friend
He is a street rat
Pongo played Dwalin in The Terrier: An Unexpected Journey
He is a dwarf
Pongo played Peter Pan in Pongo Pan
He is a boy
He is a penguin
He is a boy
He is Olivia's dad
Pongo played Jonathan Brisby in The Secret of NIMH (DogsVersion)
He is a Mrs. Brisby's deceased husband
Pongo plays Anakin Skywalker  in Star Wars (Mistercartoonmovie Style)
He is a Jedi
Pongo plays Han Solo in Star Wars (Coolzdane Style)
He is a Smuggler
He is a dwarf.
He is a wolf.
Pongo plays Rajah in Bolloladdin
He is a tiger.
He is a werewolf.
He is a Justice Friend.
He is a robot dog.
He is a Kid Next Door.
He is a Father.
Relatives
Father -
Mother -
Girlfriend -
Sons - ???
Daughter - ???
Portrayals
Gallery:
Ad blocker interference detected!
Wikia is a free-to-use site that makes money from advertising. We have a modified experience for viewers using ad blockers

Wikia is not accessible if you've made further modifications. Remove the custom ad blocker rule(s) and the page will load as expected.