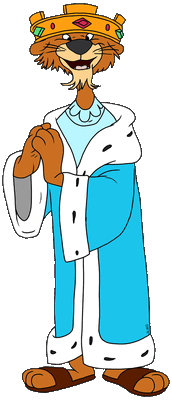 Prince John is a lion from Robin Hood.
Voice Actors:
Prince John played Watto in Animation Star Wars
He is an alien junk dealer
He is a Sewer Rat
He is a captain
He is a Russ Cargill
He is a wizard
Prince John played The Mouseking (in flashback) in The Meerkat Prince
He is a mouse in the flashback
He is a trash-talking murderer
He is Lenny Fisherwood's former best friend
He is an evil lion
He is a sorcerer
He is an old man
He is a guard leader
Prince John played one of Razoul's Henchmen in Kovuladdin
He is a henchman
He is a wolf
Prince John played the Indian Chief in Eric Pan
He is an Indian chief
Prince John played Lord Rothbart in The Kangaroo Princess & The Mouse Princess ????
He is a sorcerer
He is a Super Villian
He is Tabitha Harperstein's partner
He is a devil and the ruler of the Underworld
Prince John played Shan Yu's Scout In Nala (Mulan)
He is a scout
He is an evil cat.
He is a crazy hyena
He is a menacing tiger
He is a mirror
He is a captain
Prince John played Prince Achmed in Bagheeraladdin
He is a prince
He is a sorcerer
He is a ringmaster
He is an evil tyrant
Prince John played Kaltag in Simbalto
He is a snow dog
He is a Bird
He is a handsome villain
He is a cat
He is a lion
He is an eel
He is a Fox
Prince John played Monsieur D'Arque in Beauty and the Fox
He is a master
He is a governor
He is The Dark Side of Anakin
He is Emperor
He is Another Wolf or Tiger
He is The Rescue Rangers's Enemy
He is an Aligator
He is a sith lord
Prince John Played Seth in Dinosaur King (TheBluesRockz Animal Style)
He is an Alpha Gang member
He is Team Rocket Member and Jessie's
Prince John Played SkyTrain Mark I #136
He is a crows nest
Portrayals:
Gallery: