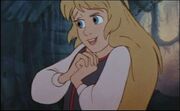 Princess Eilonwy is Taran's girlfriend in the Black Cauldron who came along with Alice and Wendy in the parodies
She plays Sis Rabbit in Eric Hood
She is a bunny
She is a Toy Ballet
She is a girl
She is a maid
She plays Princess Peach in Super Taran
She is a princess and Super Mario's girlfriend
She plays Princess Irene in The Princess and the Goblin (TheCityMaker Style)
She is a princess
She plays Adult Faline in Pinoccbambi
She is Bambi's love interest
She plays Mina/Sailor Venus in Sailor Kim
She is a Sailor Scout
She plays Evelyn Penswald in Taran and Wart
She is Jason's love interests
She is a girl
She is a clown
She is Milo's love interest
She plays the Green Fairy in Tallulina
She is one of the fairies
She is a girl
She is a mermaid
She played Jasmine in Tarladdin
She is an Arabian princess
She is a mouse
She is Robert Edward's fiancee, later Prince Edward's wife
She is a maiden
She is a gnat
She is a Russian princess
She is a Slumberland Princess
She is a Teenage Girl
She plays Elephant 12 In Tod (Dumbo)
She is a Elephant 12
She is a dog
She is a lioness cub
She is a village girl
She is a pauper
She plays James P. Sullivan in Circus, Inc.
She is a blue monster
She is Elephant 10
She is a Kyoshi warrior
She is a fish
She is the first Elephant
She played Megara in Taranules
She is Hercules' love interest
She is a maid
She is a mermaid
She is a Princess
She played Barbera Pewterschmith in Canal Family Guy
She is a Mother-in-Law
She is Ned Flanders' deceased wife
She is a Aladdin
She is a baby girl
She plays herself in the the Clash of the Links franchise
She appears as a minor character for its first two films, but a prominent character in the later films. She first appears in the 1st film who is having romance with Taran until its cut short by the clashing of the universes, she is then seen trying to run from the Daleks, but its cut short when she trips over a rock and gets captured by them and becomes captive. In its first sequel, she is seen getting saved by Taran during the film's climatic battle, and by the next films in the franchise, she becomes a more prominent character.
She is a school teacher in Sombertown
She played Twilight Sparkle in My Little Human: Friendship is Magic
She is a Unicorn
She is a blue emotion
Voice Actors:
Susan Sheridan - English
Miina Tominaga - Japanese
Marisa Leal - Brazilian Portuguese
Carla Garcia - European Portuguese
Nathalie Wijers - Dutch
Barbara Tissier - French (1985 dub)
Chantal Macé - French (1998 dub)
Lauren Savir - Hebrew
Portrayals:
Gallery: