Scarlett O'Hara is a character from Gone With the Wind.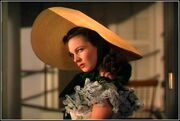 Beauty and the Simpson she played as Belle
Scarletthontas she played as Pocahontas
Scarlan she played as Mulan
Dodger (Shrek) she played as Human Fiona
The Sound of Music (brucesmovies1 style) she played as Maria
The Wizard of Oz (brucesmovies1 style) she played as Miss Gulch
Ilsaerella she played as Drizella
Bagheera (Dumbo) She played as Elephant Matriarch
Scarlett White and the Seven Animals She played as Snow White
101 Dogs (brucesmovies1 version) she played as Anita
Scarlett's Dress she played as Charlotte
Scarlett O'Hara in Wonderland she played as Alice
Ad blocker interference detected!
Wikia is a free-to-use site that makes money from advertising. We have a modified experience for viewers using ad blockers

Wikia is not accessible if you've made further modifications. Remove the custom ad blocker rule(s) and the page will load as expected.