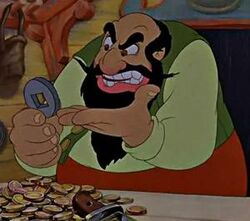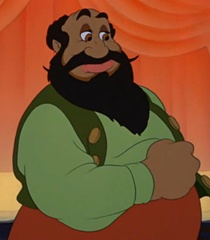 He played Farouk, the Apple Seller in Anarioladdin
Voice Actors:
Vangjel Toce - Albanian (2002)
Romir Zalla​ - Albanian (????)
Yousef Dāwud - Arabic
Almirante Henrique Foréis Domingues - Brazilian Portuguese (1940/old dub)
Castro Gonzaga - Brazilian Portiguese (1966/new dub)
Georgi Todorov - Bulgarian
Zvonimir Zoričić - Croatian
Ota Jirák​ - Czech
Gunnar Strømvad​ - Danish (1940/old dub)
Poul Bundgaard - Danish (1978/new old)
Louis van Gasteren - Dutch (1949/old dub)
Jan Anne Drenth - Dutch (1995/new dub)
Charles Judels​ - English
Markku Riikonen​ - Finnish
Fernand Rauzena - French (1946/old dub)
Pierre Garin - French (1975/new dub)
Georg Thomalla - German (1951/old dub)
Fritz Tillmann​ - German (1973/new dub)
Dínos Soútis - Greek
Shimon Cohen - Hebrew
Raksányi Gellért - Hungarian (1962/old dub)
Rajhona Ádám​ - Hungarian (1999 & 2000/new dub)
Ólafur Darri Ólafsson​ - Icelandic
Mario Besesti​ - Italian
Nakamura Tetsu - Japanese (1958/old dub)
Ōtsuka Chikao - Japanese (1983/old dub) (dub in use)
Endō Seiji - Japanese (1986/new dub)
Han Sang-Deok - Korean
Rafael Salvatore​ - Latin Spanish
Chén Guāng-Píng - Mandarin Chinese
Ivar Nørve - Norwegian
Aleksander Fogiel - Polish
Carlos Sebastião - European Portuguese
Zhāng Yáo-Hán - Putonghua TV
Paul Talașman - Romanian
Sergey Vorob'yov - Russian
Benkt-Åke Benktsson - Swedish (1941/old dub)
Stephan Karlsén - Swedish (1995/new dub)
Kritsana Saringkhannon - Thai
​Faruk Akgören - Turkish
Portrayals
Ad blocker interference detected!
Wikia is a free-to-use site that makes money from advertising. We have a modified experience for viewers using ad blockers

Wikia is not accessible if you've made further modifications. Remove the custom ad blocker rule(s) and the page will load as expected.